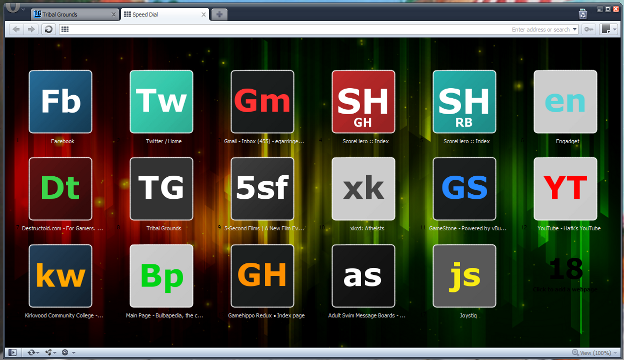 Still need another website to fit slot 18, but other than that this is looking pretty good. Trying to find a way to shut off the text titles, or at least rename them. They are in the Speeddial.ini file, but if I change them, they just turn back, meaning they are probably backed up somewhere else. I just don't know where.
I used my own theme. It's pretty much the default Opera theme, but with a different Menu button (Only looks good on XP would probably look like Poos on Aero) Also removed the Speed Dial boxes some slight tweaking here and there.
Also in the picture lolXP. Using the Royale Noir theme. Notice how my Mini/Maximize/Close buttons aren't obnoxiously huge. I always hated that about XP, so I reduced the size of them. It's really cool how Opera uses the XP theme. I would like to see how it would look with WindowBlinds. It doesn't do anything with Windows classic though, not that I would care about that.

_________________
Woah!

Time out!